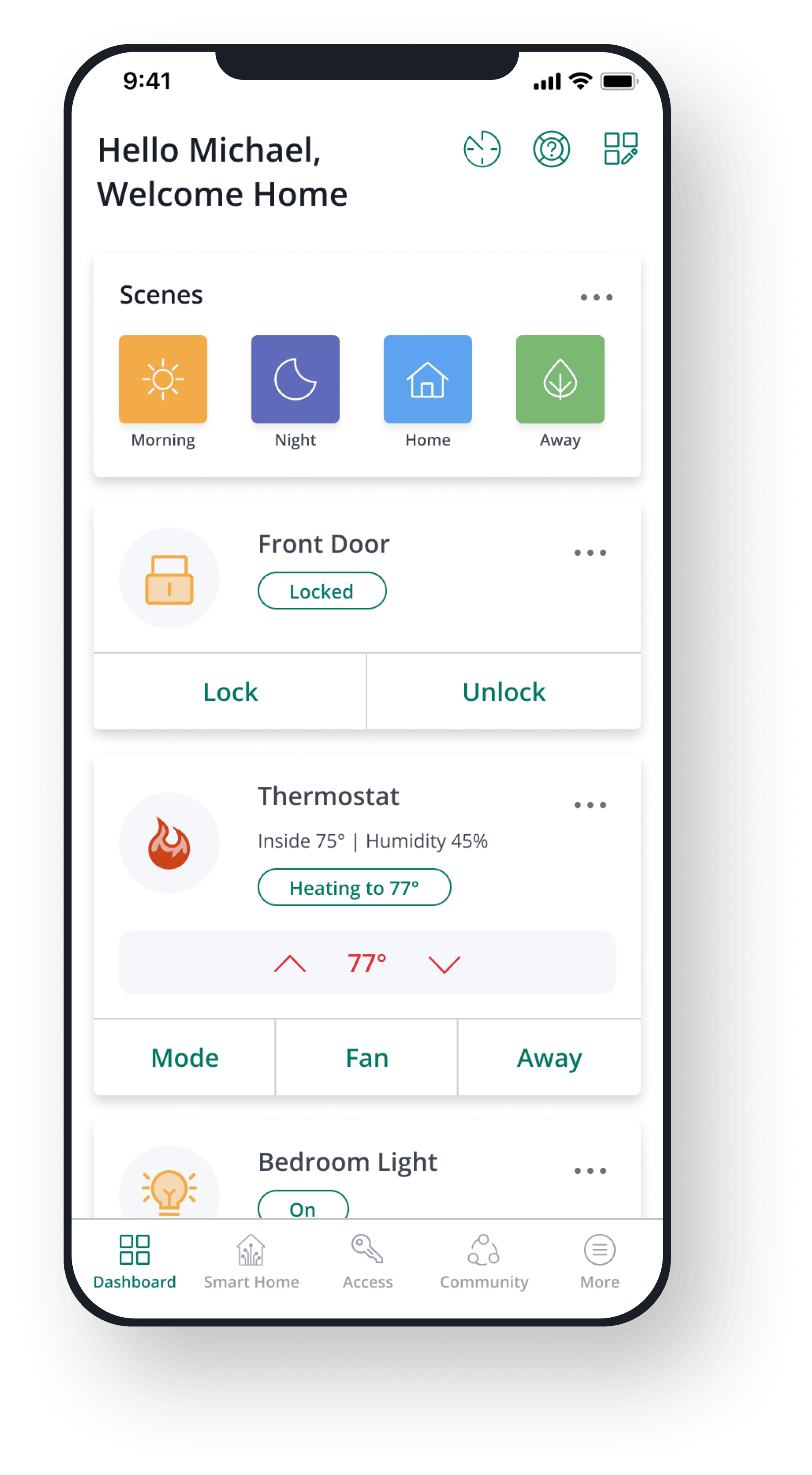 Smart Home
+

Property Operations

for Multifamily
Take the resident living experience to the next level and simplify operations with smart home solutions from SmartRent. Our seamless connectivity platform integrates your choice of hardware with our cloud-based enterprise software for all-around smarter properties.
Request a Demo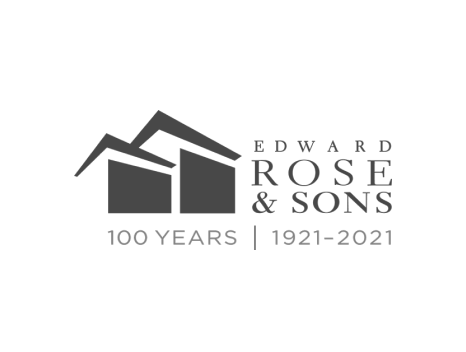 Take your property operations Next-Level Smart™
Smart home automation doesn't come with a one-size-fits-all solution. We tailor an experience that works best for each of your assets so you can scale at your own pace.
Smart Apartments
Increase retention by giving customers more options
Learn More
Access Control
Parking Management
Self-Guided Tours
Community WiFi
Answer Automation
Work Management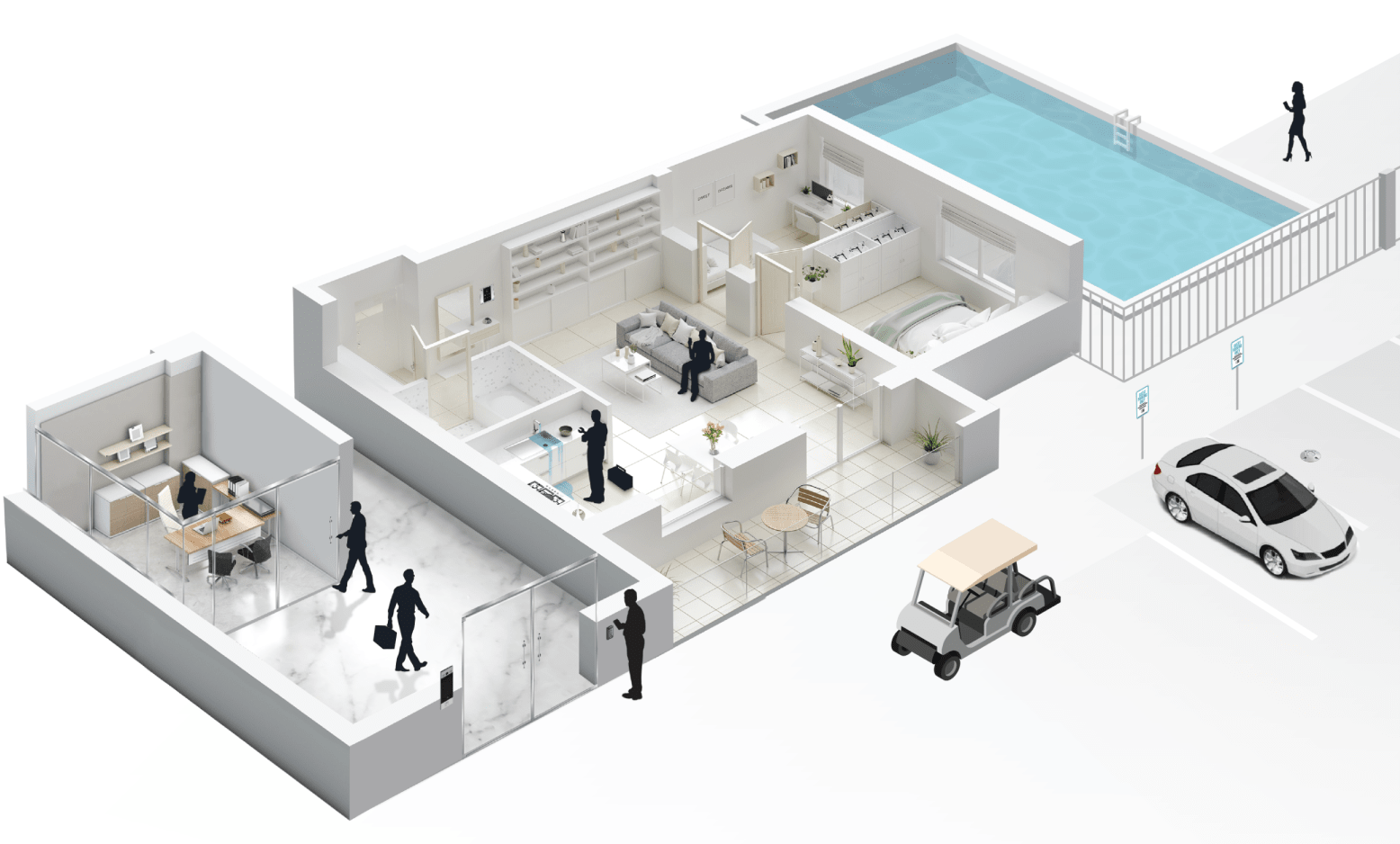 Smart home solutions for every asset in your portfolio
Making the switch to smart easy
There's no need to overhaul the systems you're already using. Our end-to-end smart home solutions seamlessly integrate with a wide range of smart home hardware, as well as with most property management and CRM tools.
See Our Full Integrations List
Hardware customization that fits any building, property, or housing style
Select from a range of compatible smart devices from the top manufacturers in the industry. Start with the basics then add on to your connected communities as your needs grow.
Learn About Your Hardware Options
Automate your property for rapid NOI
The SmartRent suite of automation solutions provides data views and analyses that maximize NOI, increase efficiency, and create positive experiences for property managers and residents alike.
But don't take our word for it—the numbers speak for themselves.
Generate Revenue
Increase your rent per unit by up to $30-$60 per month
$30-$60
Rent increase per unit, per month
Based on customer feedback through 2022
View our Case Studies
SmartRent's solutions, from Self-Guided Tours to thermostats, access control, and more, create a seamless experience that benefits property staff and residents. They also offer numerous hardware integrations, which empower us to install the hardware that best meets our needs. These reasons, and many more, are why we've chosen SmartRent as one of our preferred partners."
Cris Kimbrough, Senior Director of Smart Building Technology, Greystar
Get smart for today and tomorrow
Join the growing number of properties leveling up their operations
15 of 20
Top Owners Choose SmartRent
600K+
Smart Units & Homes
3.8K+
Connected Communities
2M+
Connected Devices
Statistics as of May 10, 2023.
Request a Demo